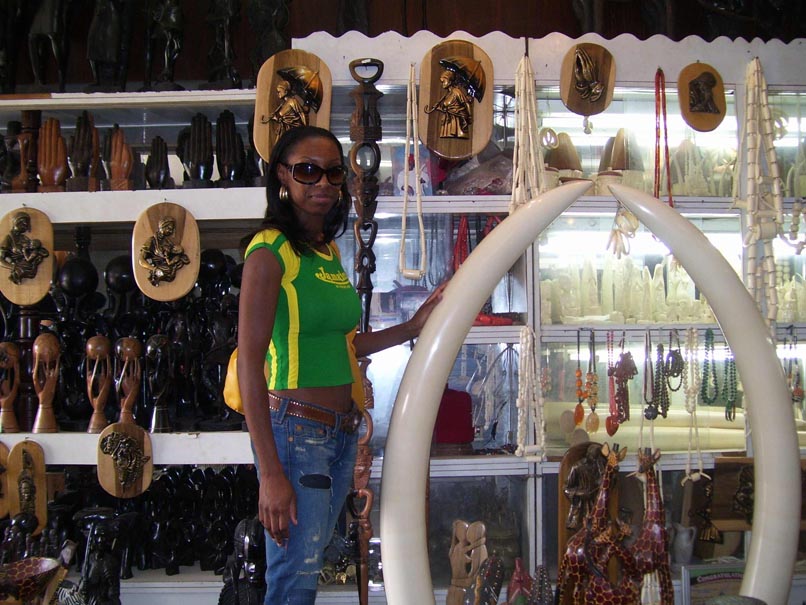 Management Supervisor Iris Hosea shopping in Warri, Nigeria.
Traveling to Africa in 2008 was my third trip to the "Mother Land," however this trip was just as special as my first one. I was invited to meet and spend time with my guy's family. Flying to Nigeria is approximately a 20-hour flight, which includes connections. We departed LAX on Christmas Day, connected in Atlanta and arrived in Lagos, Africa the next day, traditionally known as "Boxing Day" (Nigeria is eight hours ahead of California). From Lagos, we took a smaller plane to our final destination, Warri, Nigeria.
When I arrived in Africa I was greeted with big smiles and lots of cultural richness from their style of dress to their hospitality and native foods; my favorite food is the pounded yam served with Egusi soup. Living with my boyfriend's family I had the opportunity to experience what day-to-day life is like in Warri, Nigeria and I must say, the entire time they treated me like a princess. I had the opportunity to do the things locals do such as shop for food in the local market, have clothes made, eat at the fast food restaurant (Mr. Biggs), attend church, take a road trip and even go clubbing.
Each day the weather was perfect; it is always warm in Nigeria and in December the weather averaged 85 degrees with lots of humidity. I had the opportunity to pull out my summer dresses, skirts and sandals.
Nigeria consists of three main ethnic groups/tribes that make up the regions of the country. The Igbo are in the Southeast, Hausa in the North and Yoruba in the Southwest. Each tribe has it own cultural dress, dance and language that make them unique. My new family is part of the Igbo tribe.
Many of the people I talk to are apprehensive about traveling to Africa; I feel it is mainly because of the images portrayed in media. I have been to Africa three times and will return many more. Contrary to the prominent images, Africa has paved streets, grocery stores, mansions, air conditioning, doctors, colleges and universities. Nigeria has its own television Network and there is even a flourishing entertainment business with local celebrities such as actors, actresses and music recording artist. One of the most popular artists known in America is Two Face, he did the song "African Queen."
Prior to traveling to Africa for the first time in 2002, I had always wondered what it was like. Now I know and am very happy to share my experience with you through these few choice pictures. Komesia!…means "Good Bye" in the Igbo language.